Description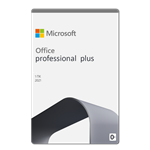 The electronic license key is delivered without any boxes, stickers, discs, etc.
As a text form (XXXXX-XXXXX-XXXXX-XXXXX-XXXXX) with a link to ISO Office 2021 Pro (Russian).
Description: Microsoft Office 2021 Professional Plus is one of the newest sets of office programs for PCs, browsers and phones. This package has all the functions that many need today, and some may be useful in the future. With this set, you can successfully meet the challenge of today's economic situation. and watch out for the success factors in IT. Regular employees will be able to get the job done much faster and more efficiently, working alone or in a group, on the road or in the office. IT professionals will receive a set of intelligent applications that can be easily integrated into the system with increased security and run on existing equipment, supporting business development.
delivery within 24 hours through email (check your spams also )